---
Undergraduate Students
Undergraduate students who are interested in gaining research experience should first consult the websites for the Provost Undergraduate Research Fellowship (PURS) and the Summer Undergraduate Research Fellowship (SURF). Prof. Grabow recruits undergraduate researchers primarily through these programs. If you are interested, please contact Prof. Grabow as early as possible. Note that the deadlines are typically about one semester (or more) before the research experience begins, so plan ahead!
---
ACS Bridge
Prof. Grabow serves as mentor to the newly established ACS Bridge Site in the William A. Brookshire Department of Chemical and Biomolecular Engineering. If you are an underrepresented minority student interested in a graduate degree in the Chemical Sciences please review this information material and apply now!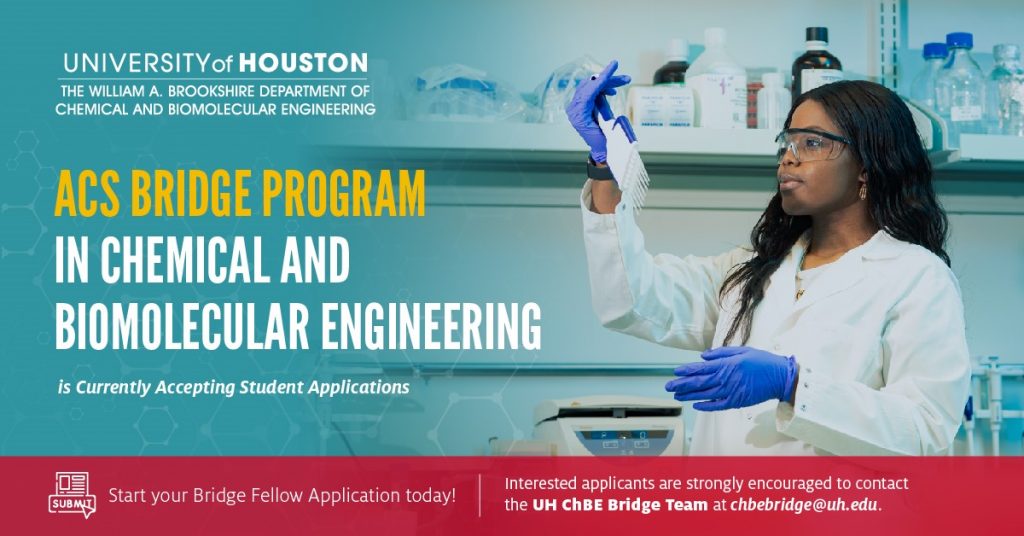 ---
PhD Students
The group of Prof. Grabow recruits on average 1-2 students every year. Preference is given to students who have been admitted to the PhD program at the William A. Brookshire Department of Chemical and Biomolecular Engineering. In some cases, students may also be recruited through the Material Science and Engineering Program or the Department of Chemistry. Students who are admitted to one of these programs may reach out to Prof. Grabow to discuss available research projects.
---
Postdoc
Postdoctoral Research Position in Transient Kinetics at UH/INL
Job Information:
   The groups of Prof. Grabow (UH) and Dr. Fushimi (Idaho National Laboratory, INL) are seeking a postdoctoral researcher with background in transient kinetic modeling of heterogeneous catalysts and machine learning. The position is open immediately, and the initial appointment is for 1 year. The position may be renewed annually at the discretion of UH/INL, based on satisfactory performance, funding availability, and programmatic need.
Responsibilities:
  We seek a motivated postdoctoral researcher to assist us in the development of a novel transient characterization tool for predicting catalyst deactivation kinetics. The successful candidate will carry out transient kinetic experiments, perform data analysis, visualization, and will develop kinetic models integrated with data science approaches to develop the experimental and theoretical framework for studying deactivation behavior.
   Experience with the use of transient kinetic techniques and/or kinetic modeling are highly desired along with a demonstrated publication record in the area of dynamic catalysis science or reaction engineering. Responsibilities may also include catalyst synthesis, conventional catalyst characterization, and the design and testing of new reactor concepts.
  The project team is multidisciplinary and distributed across academia, national laboratories, and industry; thus, the candidate will be responsible to document and regularly present findings to the research team, present results at national/international meetings, and publish research in peer-reviewed journals.
Qualifications:
PhD degree in Chemical Engineering or a closely related discipline. All degree requirements must be completed before the commencement of the appointment.

Excellent oral and written communication skills in English.

Experience in experimental catalysis science or reaction engineering.

Experience with kinetic models and/or data science

Strong record of publications in peer-reviewed journals and presentations at scientific conferences

Ability to address complex problems creatively, and to work effectively both independently and in collaboration with other researchers.
Other Information :
  The project work requires physical access to instrumentation at INL and the successful candidate will need to relocate to Idaho Falls, ID. Computational work at the University of Houston will be remote.
The University of Houston is an Equal Opportunity / Affirmative Action institution. Minorities, women, veterans and persons with disabilities are encouraged to apply. Additionally, the University prohibits discrimination in employment on the basis of sexual orientation, gender identity or gender expression.
How to Apply :
  Interested applicants should submit their cover letter, CV/resume with publication list, and a short personal research statement (< 2 pages, optional) to Prof. Grabow (grabow@uh.edu).