Tag Archives:
Aboiralor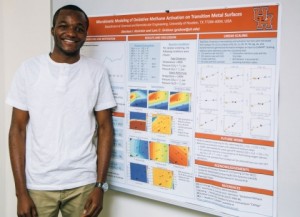 Abraham wins a $100 cash award from the COMP division of the American Chemical Society (ACS) for his poster titled "Micro-kinetic modeling of oxidative methane activation on transition metal surfaces". Watch the
video
or read the full story
here
.
Undergraduate student Abraham Aboiralor win a Provost Undergraduate Research Scholarship (PURS) to develop a microkinetic trend model for methane upgrade to fuels and value-added chemicals.