Monthly Archives:
March 2013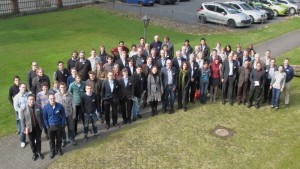 Byeongjin Baek's research presented on the poster "Comparative DFT Study of Acetaldehyde Hydrodeoxygenation Mechanisms on Ru and RuO
2
Catalysts" convinced the judges of the 
Helmholtz Research School Energy-Related Catalysis
, 528. Wilhelm and Else Heraeus Seminar in Bad Honnef, Germany, and recognized the poster with one out of three best poster awards.
Lars Grabow reached the final round of the Gerhard Ertl Young Investigator Award competition and presented on acetaldehyde hydrodeoxygenation on Ru and RuO2 at the DPG Meeting in Regensburg, Germany.